Auto Accidents
Car Accidents in Clearwater and St. Petersburg
St. Petersburg and Clearwater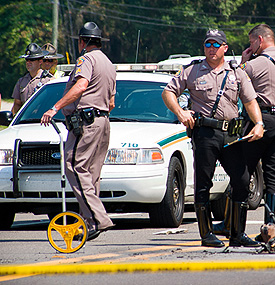 Personal Injury Attorney Colleen Russo has handled hundreds of automobile accident cases in her 27 year career as a personal injury lawyer. She is available for a free consultation over the phone, in your home, at the hospital, or at her St. Petersburg or Clearwater office locations. Colleen Russo believes it is advantageous to speak to an experienced attorney before you make the very first phone call to your insurance company.
Know Your Rights
With the ever-changing laws in Florida and the fine print of insurance policies that define your rights, attempting to deal with the insurance company on your own can be dangerous for both you and your family.
If you have been injured in an car, truck, or motorcycle accident in Florida, there are many laws that you may be unaware of that can directly affect your rights. You may be entitled to recover payments for:
Your medical treatment
Permanent injury
Pain and suffering
Lost wages
Cost of repair to your vehicle
Dealing with the Insurance Company
Attempting to deal with insurance companies on your own can be a huge mistake. Your personal injury lawyer can make the necessary repeated phone calls to the insurance adjuster, an effort to process your claim more quickly. Your attorney can also negotiate the best possible settlement to provide you with the security and freedom to take care yourself and your family.
People not represented by counsel often fall prey to traps set by the insurance company and significant delays caused by the adjuster's lack of attention to your claim. As a former insurance company lawyer, Colleen has first-hand knowledge of how the insurance company will operate when handling and evaluating claims. You can put her experience to work for you in obtaining a cash settlement that you deserve. Call 727-578-0303 for a free consultation.

Myth: If I cooperate with the insurance company, they will handle my claim fairly and efficiently.
Reality: Your cooperation in providing the insurance representative with all sorts of requested documents, bills, medical records and recorded statements does nothing more than do their job for them without any guarantee they will pay your claim faster.
---
Myth: My insurance company is on my side.
Reality: Your insurance company is a business interested in making a profit from the premiums it has collected from you for many years. As a business, it must limit its losses which translates to paying as little as possible to you.
---
Myth: The driver who hit my vehicle won't lie.
Reality: The driver of the other vehicle is interested in one thing – to protect himself or herself. He or she often lies to avoid responsibility for your damages and will try to avoid getting a ticket or having his or her insurance company cancel his or her policy.
---
Myth: Giving the insurance company my recorded statement is required.
Reality: It is common for the insurance company representative to demand a recorded statement within days after of the auto accident. A recorded statement is not necessary for the insurance company to pay your claim. It is used to pin you down to facts you may be confused about and to have describe your injuries when you are still unaware of the true extent of the injuries sustained.
---
Myth: Hiring a lawyer will slow down my case.
Reality: Struggling to get the insurance adjuster just to call you back takes a lot of your time. Hiring a lawyer to negotiate the highest possible recovery for you and to make the insurance company do all that it is responsible to do for you will occur faster with a lawyer's help.
---
Myth: Handling my insurance auto claim without help from an attorney is simple.
Reality: Have you read the fine print of your auto policy recently? Nothing about the auto insurance laws is simple and the laws and policies continue to change. Don't believe you know enough to know all of your rights and to negotiate your own auto claim. The insurance company is not going to provide you with any more than you ask for.
---
Myth: Making a claim to get my medical bills and lost wages paid as well as paying me for my injuries will raise my insurance rates or cause my insurance to be cancelled.
Reality: There is never any question as to why or when an insurance company will raise your rates, but if you make an auto injury claim against your company through no fault of your own, your rates should not increase. Only those persons who drive carelessly and get cited become "increased risks" which will result in increased rates or cancellation of your policy.
---
Myth: If I am not bleeding, then I shouldn't go to the hospital after the accident.
Reality: Most brain, spinal, shoulder, and knee injuries that require surgery do not cause visible bleeding, but do require immediate medical treatment at a hospital. Just because you do not see blood, does not mean that you should forgo going to the hospital by ambulance or receiving some type of medical examination and treatment that same day.
---
Myth: It is best to wait to see if my injury will heal on its own rather than spend the money to go to the hospital or to the doctor.
Reality: If you are in pain, you must go to the hospital or to a doctor as soon as possible after your automobile accident. You should never delay a thorough medical examination somewhere, whether it be at the hospital, at your family doctor's office or simply at a walk-in clinic. Once you have been examined, you may then choose what follow up care is necessary. But this initial examination and treatment is important to prove the accident caused your injuries.
---
Myth: I cannot afford a lawyer.
Reality: You can't afford not to have a lawyer. You do not pay any attorney fee until you recover money when your case is resolved by a settlement or jury trial. So it costs you nothing upfront, no hourly fee, to have a lawyer protect your rights and get you the highest possible recovery for your injuries and damages.
---
Myth: I have a pre-existing condition which was aggravated in this accident so I won't be able to prove my injury and get compensated for how much worse I feel as a result of this accident.
Reality: It is more complicated to prove an aggravation of a pre-existing injury or condition. Thus, it is important for your attorney to know the extent of your prior treatment so this issue can be addressed by your doctors. The increased or new symptoms can be distinguished from the pre-existing condition so the insurance company can pay a fair settlement for the new injury or aggravation of your pre-existing condition. Attempting to do this on your own will be very difficult without the guidance of your lawyer.
---
Russo & Russo handles St. Petersburg and Clearwater area car, truck, motorcycle and boat accident cases. They aggressively work to secure the highest possible cash settlement.
---
Our Primary Office:
St. Petersburg Location
Baypoint Commerce Center
Koger Building
Corner of 9th Street N. and Gandy Blvd.
9721 Executive Center Dr. North, #120
St. Petersburg, FL 33702
Map
Consultations also Available at:
Clearwater Location
The Summit Building
Ulmerton Road and 58th Street N.
Clearwater, Florida 33760