Slip and Fall Accidents
There are many different types of accidents that can occur while you and your family go about your daily lives. You could be injured at a recreation center, a library, a park, an apartment building, a friend's home, a store, at school, in a parking lot, at a bar or restaurant, or even walking down the sidewalk. The accident may be a trip or slip and fall resulting from poor lighting, slippery conditions, areas in disrepair, or simply careless maintenance.
Who is Responsible When You Fall?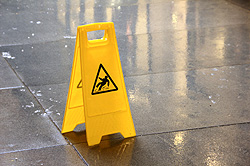 Slip and fall attorney Colleen Russo – St. Petersburg, FLProperty owners have a responsibility to keep their premises in a reasonably safe condition. As a visitor or tenant, you should be able to rely on routine maintenance designed to keep the property safe. You also have the right to be warned of any unsafe conditions should they develop. When the property owner fails to maintain his property, neglects to repair dangerous defects or fails to warn of unsafe conditions, then he is responsible to those who are injured.
Preserving Evidence in Your Slip and Fall Case
Slip and Fall Report – Clearwater AccidentAny delay in hiring a lawyer could jeopardize the value of your recovery. The property owner will often change or quickly repair the unsafe condition or defect that caused your accident. This will leave you without the opportunity to obtain valuable photographs and other evidence that is vital to your case. With the passage of time, witnesses may be difficult to identify and locate. Therefore, it is imperative that you promptly hire a lawyer to gather and preserve all possible evidence favorable to your case. In many slip or trip and fall accidents, an immediate inspection by an expert may be necessary to establish negligence on the part of the property owner.
The Insurance Company has a Lawyer…
You Need One Too
Attempting to deal with the insurance company on your own can be a costly mistake. The property owner is likely to refuse to discuss your injury and the payment of your medical bills. Likewise, because you are unrepresented, the insurance company may not take your case seriously.
St. Petersburg Personal Injury Attorney Colleen Russo can make a formal demand upon the insurance company to obtain payment of your medical bills. She can also negotiate the best possible settlement for you. Having a lawyer represent your best interests is the best course of action you can take to protect yourself and your family. People who fail to hire an attorney often fall prey to the traps set by the insurance company and delays caused by the adjuster's lack of attention to your claim.
As a former insurance company lawyer, Colleen has first-hand knowledge of how the insurance company will operate when handling and evaluating claims. You can put her experience to work for you in obtaining a cash settlement that you deserve. Call 727-578-0303 for a free consultation.

Myth: The insurance company informed me that they won't pay my hospital bills or doctor's bills because they blame my slip and fall on the shoes I was wearing. I guess it's my own fault that I fell down.
Fact: The nature of your footwear (flip-flops, high heels, bare feet, etc.) will not prevent you from recovery. If the property owner failed to keep his property in a reasonably safe condition, failed to repair defects or failed to warn you of dangers and you were injured, he will be held liable. You are entitled to not only payment of your medical bills but also payment for your pain & suffering and any future medical expenses you may incur that resulted from your slip and fall.
---
Myth: If I am injured by slipping or tripping over something that was in plain view, I will be prevented from recovering damages since the Insurance company will say that I should have been more observant when walking.
Fact: If the property owner allows a dangerous condition that he knew or should have known to exists, even if it is plain view (open and obvious), he still has a duty to maintain his property in a safe condition. For example, he is under a duty to repair or clean up the dangerous situation before someone becomes injured. Thus, you may still be entitled to a recovery even where the item was in plain view.
---
Myth: I can't make a claim for tripping and falling while visiting my friend's apartment complex because I don't live there.
Fact: Florida law requires that the property owner keep his property in a reasonably safe condition for visitors and/or residents. Therefore you are entitled to recover for any damages you incur as a result of an injury you sustained from a trip and fall even though you do not reside at the location where you fell.
---
Myth: Since the store manager completed an incident report right after my slip and fall accident, I don't need to do anything further to document my fall.
Fact: The store manager prepares the incident report for the benefit of his company. It can often be slanted in such a way to portray your involvement in a negative light or fail to list critical witnesses that could support your position. It is therefore important that the injured person immediately gather the manager's name, as well as, the phone number and addresses of all witnesses. A slip and fall victim should never rely on a store manager or company employee to preserve beneficial evidence that will later assist in their recovery of damages for the store's negligence.
---
Myth: If the Insurance Company asks me to provide a recorded statement and I do not immediately comply, they can deny my claim.
Fact: An insurance company representative may contact you and request that you provide a tape-recorded statement of how your slip & fall occurred. They are motivated to speak with you before you have had the opportunity to consult with an attorney. It is common for an adjuster to later use these statements against you in an effort to deny or limit your recovery. At the time of your recorded statement, an injury may not have yet manifested itself, since many people may not feel the effects of an injury for several days or weeks. Don't fall prey to an insurance adjuster's ploy that your case cannot be settled without your recorded statement.
---
Myth: I can return to the property where the accident occurred to get photos after I'm feeling better. There is no need to rush.
Fact: After a slip & fall a property owner will almost always take immediate steps to repair or correct the dangerous condition so no additional accidents will occur. This will often result in eliminating much of the vital evidence in your case. It is very important to return to the scene of the accident as soon as possible and obtain photographs of the area before any changes are made. Many of our clients use their cell phones to take these pictures immediately after their slip & fall. Armed with these images, your attorney is better able to effectively secure a fair settlement despite the insurance company's efforts to minimize or deny the property owner's negligence.
---
Myth: I don't need to hire an attorney because the strong facts of my case clearly point to the negligence of the property owner in causing my slip & fall. Thus, my case will be easy to prove on my own.
Fact: Slip & Fall cases are defended vigorously by insurance companies. You will be no match for a skilled and experienced insurance company lawyer who will be looking for any angle to deny your claim. Your attorney can hire the necessary experts or safety engineers. Their reports carry great credibility and are often a persuasive method for your attorney to clearly establish fault on the part of the property owner and to increase the value of your claim.
---
Our Primary Office:
St. Petersburg Location
Baypoint Commerce Center
Koger Building
Corner of 9th Street N. and Gandy Blvd.
9721 Executive Center Dr. North, #120
St. Petersburg, FL 33702
Map
Consultations also Available at:
Clearwater Location
The Summit Building
Ulmerton Road and 58th Street N.
Clearwater, Florida 33760