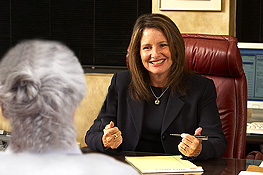 Personal injury cases are typically valued in large part by the extent of permanent injury together with the remaining life expectancy of the injured party. Given these variables, Colleen Russo can be credited for some very creative lawyering in her recent repre­sentation of an elderly client who suffered a fractured hip and wrist after being struck in a crosswalk by a passing motorist.
"I evaluated this case as one where given the age of my client, she might not be able to participate in prolonged litigation," said Colleen Russo. "I knew that I had to present my client in a light that suggested that despite her age, she had been self sufficient and active. At the same time, I had to remain cognizant of her physical limitations and true life expectancy."
Colleen was well aware of tactics often employed by insurance companies that resulted in lengthy delays. She also knew that such delays in a case of this nature could be devastating. After careful consid­eration, she developed a strategy that would achieve two important objectives.
First, she would have to demonstrate to the insurance company lawyers that her client's plight would be very compelling to a sympathetic jury. Second, she would have to expedite the expert medical documentation and testimony supporting her client's claim. Colleen retained the services of a film production company and directed a biog­raphy of her client's life. This film included music, narration, interviews, old photos, and the accident scene. Colleen interviewed friends and relatives who related stories about the active lifestyle her client had enjoyed before the accident. Colleen's client spoke from the heart when she described the accident and how it had changed her life in so many ways.
A mediation between all lawyers was scheduled at which time Colleen had an opportunity to present her case. Her demonstration included graphics, oversized x-rays and visual aids that emphasized the severity of her client's injuries. However, it was the biogra­phical documentary film pre­sented on a large display that drew the most concern on the part of the insurance compa­ny advocates. This film was both moving and convincing.
Colleen's successful strategy addressed the unique nature of her client's case. As a result, the initial challenges created by her client's advanced age were overcome through a persuasive argument supported by the use of state-of-the-art tactics.